IITA planned a training workshop on "Banana bunchy top disease (BBTD) diagnosis, surveillance and emergency response" from 14th to 16th January 2019 at IITA, Ibadan, Nigeria.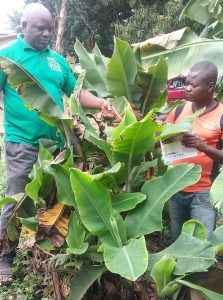 Purpose of the workshop is to offer hands-on training in application of on-field diagnostics for the detection of banana bunchy top virus (BBTV) using LAMP and RPA methods, use of Crop Disease Surveillance (CDS) mobile App for real time surveillance and reporting, and ways to prevent disease expansion in West Africa.
About 20 participants from Togo [Direction de la Protection des Végétaux (DPV), Institut de Conseil et d'Appui Technique (ICAT), Université de Kara and Université de Lomé], Ghana [Plant Protection Services Directorate] and Nigeria (Nigerian Agricultural Quarantine Services, National Horticulture Research Institute and National Agricultural Seeds Council) are expected to attend this workshop.
BBTD is a the most devastating viral disease of plantain and banana caused by BBTV transmitted by the banana aphid (Pentalonia nigronervosa). Inadvertent distribution of infected planting material has led to widespread occurrence of the virus. Use of virus-free planting materials and early detection and eradication are critical to the successful control of BBTV.
BBTD outbreak in West Africa was first recognized in 2010 in Benin and in 2012 in Nigeria. Various actions by national programs and IITA has resulted in preventing disease expansion in these countries. In September 2018, BBTV was detected for the first time in Togo, and the emergency response action implemented by national partners and IITA has resulted in eradication of the disease detected in 3 locations in the country. Nonetheless, this incidence warrants threat of BBTD expansion in West Africa, and the need for country strategies for surveillance and emergency response to prevent disease spread.
The proposed training workshop aims to create awareness about the disease, train national partners in disease diagnosis and develop emergency response plan.
This workshop is sponsored by CGIAR Roots, Tubers and Bananas (CRP-RTB).
For more information, contact: L.kumar@cgiar.org